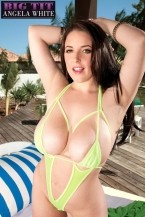 Actually, these photos were taken in St. Maarten, the Caribbean a few hours before Angela did her first boy-girl scene, and the anticipation shows all over her face.
"I was really horny," Angela said. "I wanted to fuck, and then when you told me I was going to do a solo shoot first, I said, 'What a bunch of teases!' You can tell that I really want the cock, can't you?"
We can, and although this isn't a XXX scene, Angela has never looked hotter than she does in that barely-there monokini.
See More of Angela White at BIGTITANGELAWHITE.COM!