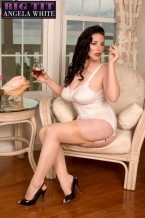 Angela is all decked out in a glamorous bustier and girdle and with what we call "M'Lady" shoes on her stockinged feet. A glass of vino and a cigarette stuck in a rich dame's holder complete the image of sophistication and elegance.
Of course, by the end of the pictorial, she's spreading her pussy and asshole and fucking herself with a big dildo.
"At times I'll look at your magazines and I think about how nice it is when the girls are on their own and looking glamorous and leaving some mystery about themselves," Angela said. "But then I realize that this is what the guys have wanted all along. They just couldn't have it because of society and laws. Now that I can give it to them, I'm going to give them everything I have."
These photos were shot at our beach house in Eleuthera, the Bahamas during Big-Boob Paradise week. Angela was truly in paradise.
See More of Angela White at BIGTITANGELAWHITE.COM!